"Kate's vocals are poised, engaging and elegant. She sings as if she is telling you a secret" 
– John Etheridge
"A classy evening of song-cherishing internationalism." John Fordham, The Guardian
A hundred thousand welcomes to my website! Ceud Mile Failte as my father would have said..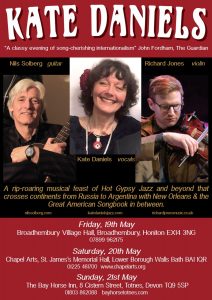 LIBERTANGO
In 1974 the Argentinian composer and bandoneonist Astor Piazzolla "the world's foremost composer of tango music"(Stephen Holden)  recorded and published this composition in Milan. It signified both in name and form, the evolving nature of tango as dance and music. It is a fabulous piece of music.
Here I have added to my playlist our arrangement of the song, with lyrics by Grace Jones and Barry Reynolds that tell a dark seductive story. Thanks to the amazing Nils Solberg who produced it and is also the guitarist and percussionist. The wonderful violinist is of course Richard Jones and Steve Thompson's bass is just as ominous as it should be…
MUSIC LIGHTING A BEACON FOR REFUGEES – at THE VORTEX
Had a wonderful evening with the band – John Etheridge, Alec Dankworth and Richard Jones – and the audience, who were generous both in their appreciation and in their response to the Benefit. We raised a good sum for the Refugee Resilience Collective and got ourselves a lovely review from John Fordham at The Guardian
Dec 2nd Am back at the Kings Head Crouch End with Kix Jazz Orchestra for our annual Fundraiser for the Refugee Resilience Collective
MUSIC AND MUSICIANS
I am fortunate to have hooked up with guitarist Nils Solberg  (have a listen to him on Bryan Ferry's album As Time Goes By  or Clare Teal's Orsino's Songs). We have recorded some tunes and are off to Ireland in October to play at the Waterford Imagine Festival. Have posted our recording of Nuages here – complete with Nils's poignant intro/outro homage to Django. Steve Thompson is our solid  bass man and Richard Jones as always plays a lovely lyrical violin. Our version includes  the English translation by the talented and tragic linguist and singer Susannah McCorkle – a woman who has haunted me for years. Her version of Agua de Marco is utterly compelling.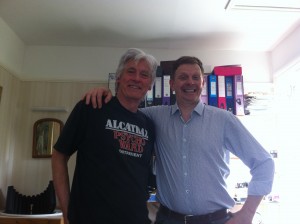 Nils Solberg and bass player Steve Thompson
TOUR STORY 2  Set off with the band – John Horler, Alec Dankworth and Graham Pike, heading for the last jazz club before New York (St Ives) via a few others
We were travelling in the face  of Storm Imogen (who invents these names?) and after a motorway journey with serious wind and rain and lorry spray lashing the windscreen, we discovered, on arrival, a surprisingly peaceful Devon.
The first gig was in the Methodist Chapel in Ashburton courtesy of tenor sax player Andy Williamson who joined us for a couple of songs.
Unbelievably a wonderful audience had pitched up on this dismal Monday evening and that was the start of a great week. On the way we found ourselves a great drummer -Ronnie Jones, and what an asset he proved to be!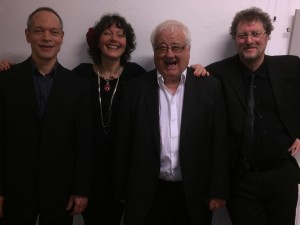 Ilminster with  Alec Dankworth, John Horler, Graham Pike
RECORDING
We have just finished recording at Derek Nash's studio.  New album – Cool For Night People – hopefully available soon.  Grateful to Nils Solberg for the cover artwork which fits my specifications to a T and which I will post
TOUR STORY 1 
QUARTET NORTH – with John Horler, Alec Dankworth, Graham Pike,

We had a great time travelling up to Carlisle and Newcastle via Nottingham and Southport with such great audiences at each venue. The culmination on our return was a sold-out gig at The Pheasantry, Kings Rd. London. The magnificent Winston Clifford joined us and did some fantastic percussion and drumming – his Gene Krupa intro to Blue Skies raised the roof,and I loved his fine and creative percussion on our vocal version of Take Five.
AFTER THAT IT WAS
QUARTET SOUTH – with John Etheridge, Alec Dankworth, Mike Piggott
At The Quay Arts Centre, Newport on the Isle of Wight  and then Tunbridge Wells……………………..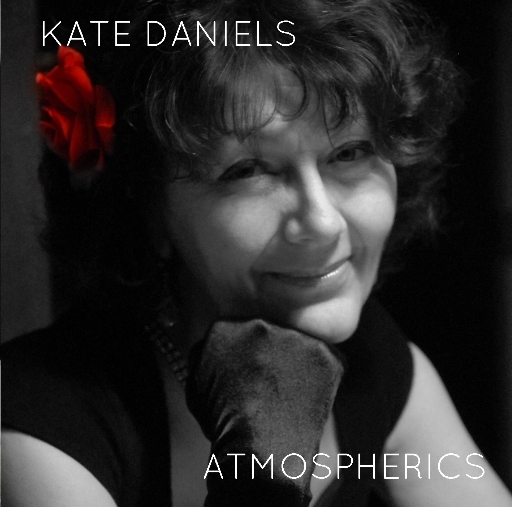 You can buy my album using the websites below, just click the buttons to visit their shops